TROICKI AT THE OPENING OF A FREE TENNIS SCHOOL: ALL CHILDREN DESERVE A CHANCE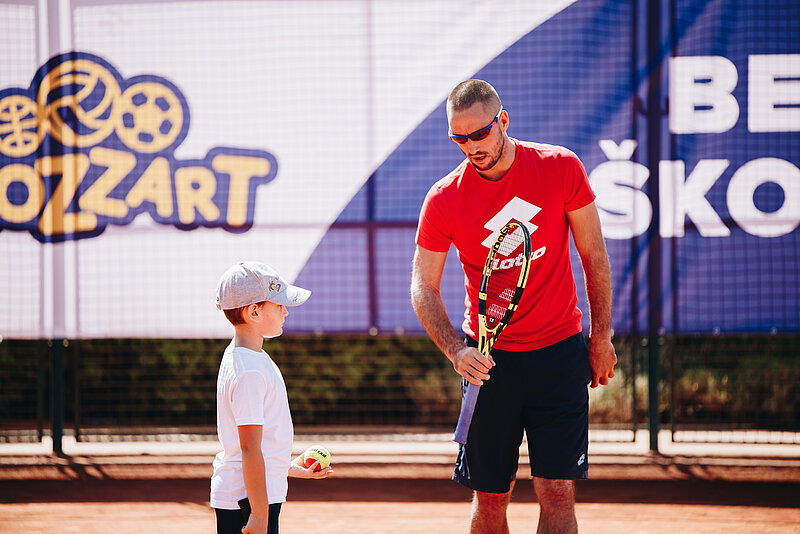 [Translate to English:]
As a child, Nole made cardboard cups and imagined winning Wimbledon one day in front of a mirror. While he is rushing for the title of the best tennis player of all times nowadays, many children in Serbia are taking their first steps with the desire to follow in his footsteps, but most of them do not have the opportunity to take the racket in their hands at all. Still, it can be different - without membership fees, registration fees, costs for expensive equipment...
Mozzart and TC Crvena zvezda launched the Free Tennis School for children aged five to eight, who were given a unique opportunity to train without any cost and step into the world of "white sports" at the big door - with the celebrated national team player Viktor Troicki!
The winner of the Davis Cup with the national team and three ATP titles, the former 12th player in the world, and now the manager of the Davis Cup team of Serbia, is a real example that success does not depend on the strength of the forehand and backhand, but on the strength of will. With commitment, sacrifice, effort and crazy energy, it is possible to make a "boom" - to break the tennis silence and prejudices that "white sport" is only for the elite.
Today, the Red Star tennis complex was as big as Roland Garros for about 70 children, because Troicki brought them the spirit of ATP, conveyed knowledge from his rich career, but also the belief that with a lot of work, those balls will soon routinely cross the net.
"Can you beat Nole?" The children asked him, and Viktor recounted with a smile how he once managed to defeat Đoković.
"I feel utterly happy to see so many children who want to train tennis, especially in this place, where I also took my first tennis steps. Thanks a lot to Mozzart for launching the Free Sports Schools project, something like that didn't exist in my time. I think that every child should get a chance to try out in the sport they love, and I will always be happy to support such great actions. "
The current national team manager was with the kids as much as two hours, showing them how to hold the racket, pass the ball, then he handed them diplomas, signed autographs, and took images with everyone.
"At this age, the most important thing is to play, to make a lot of friends, and if tennis really becomes interesting to them, then they just need to be diligent and the results will come. I've just finished my career, I managed to realize my dream, and I want the same for all these children", concluded Viktor.
Enrollment in the school will be possible even after the open class, in order to give a chance to children who, due to the summer vacation, were not able to get to hang out with Troicki.
"We are glad that Mozzart has decided to create a free tennis school for children together with us, where they will have the opportunity to try out with a racket and see how much they are interested in it. Of course, at the beginning, everyone will say that they want to be Nole, but that takes many years of work, effort and sacrifice", says Slobodan Vojinović from Red Star.
Trainings will be held twice a week on the courts of TC Red Star, and the children will have a tournament at the end.
"Our school has a long tradition and many champions came from it, I hope that some new champion will appear now. Red Star is the most trophy-winning club, children will have good working conditions here. The coaches will assess who has the talent, desire and affinity, and at the first open training, Viktor Troicki helped them with that ", concluded Vojinović.