Aranđelovac is a city of handball – Nikolić, Šrbić i Cupara select small champions!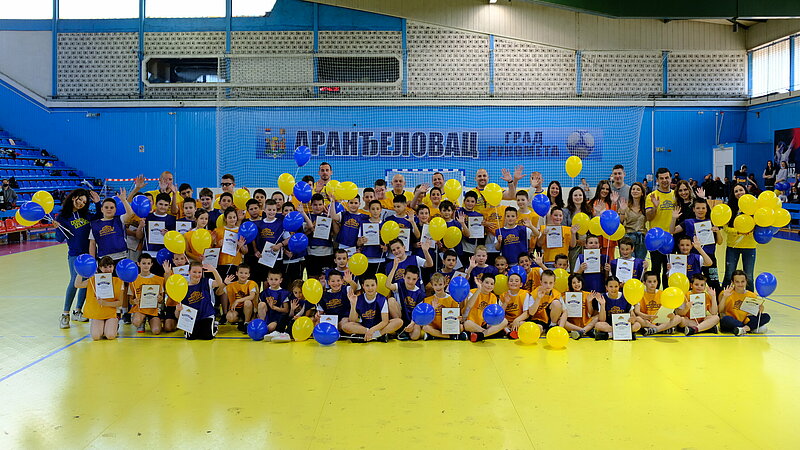 Nikolić: Mozzart, thanks for choosing our sport for the Free Schools project. Škrbić: If our parents had to pay membership fees, we might not have become successful athletes and national team members
Run, throw, now jump-shot…. It was shouted in the "Šumadija" hall where Ratko Nikolić, Dragan Škrbić and Vladimir Cupara showed tricks with the ball to kids who dream of scoring goals or defending shots. The little champions from this area got support from the celebrated aces, and dozens of children will be selected for Mozart's free school of sports.
The game started in Belgrade, in the open football class, continued in Niš with basketball, and now it's Aranđelovac's turn!
The owner of the bronze medal in the World Chamionship and former captain of the national team, Ratko Nikolić, says that they decided for this city because of the long handball tradition.
We will certainly have a lot of joy from handball, thanks to Mozzart for recognizing it and choosing our sport for a great project. Many members of the national team came from this hall. This school will enable children to work with top coaches who will be guests every week - said Nikolić, who also remembered his beginnings: - The conditions were much more difficult, because the trainings were held outside.
Once the best handball player in the world, Dragan Škrbić, revealed that he decided to play handball at the age of 12.
Today I've remembered my beginnings in my native Crvenka, which is also known as a city where good handball is played. We were watching top players then, so I decided to try, that's how it all started. We were taught that it is important to enjoy training and to do your best - says the famous Škrba.
I used to talk to my former teammates from the national team and to Ratko about a school like this, I'm glad that it has come to life now. If our parents had to pay membership fees, we might not have become successful athletes and members of the national team.
About 70 boys and girls aged 8 to 13 will have the opportunity to train for six months for free.
The goalkeeper of our national team, Vladimir Cupara, made his first steps in HC Voždovac, where they allowed him to train without paying a membership fee, and then he made a great career.
Those days are the best thing that happened to me in my life, and I hope that one day these kids will talk about this training like that. Mozzart did the right thing, the children need to be removed from the street, and this is the best way for that. I am very glad that so many children came - said Cupara during the break of the training, at which he taught the kids how to keep a goal.
Let us remind you, Mozzart's project was supported by the Ministry of Youth and Sports, and it is still possible to apply for volleyball trainings in Belgrade.