A TWO-STEP TOWARDS DREAMS - JOVIĆ AND REBRAČA CHOOSE A DREAM TEAM AT THE OPEN BASKETBALL CLASS!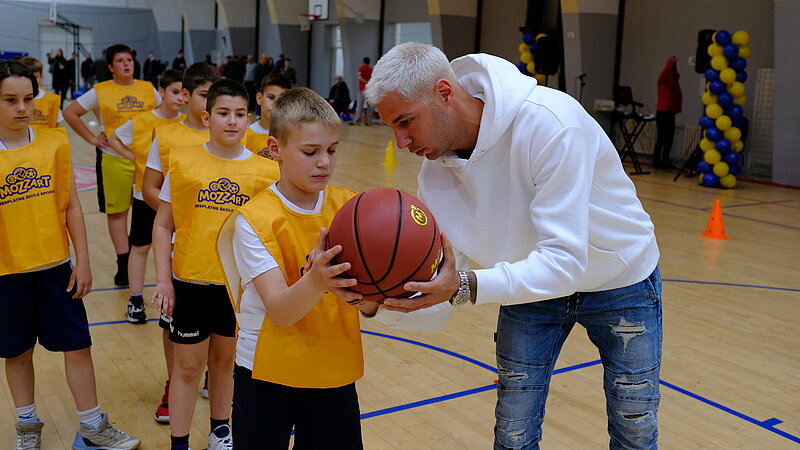 Jović: Mozzart, thank you for all the ideas, we hope that a new pearl will be born on this field.
Rebrača: All kids should have the biggest dreams
A two-step towards the realization of dreams, with the assistance of the celebrated aces of our basketball! Stefan Jović and Željko Rebrača elicited applause in the open class under the hoops of the Sports Center "Šivara" in Niš, and dozens of children will be selected for Mozzart's free basketball school, which is being realized in cooperation with the BC Marinos. Boys and girls who dream of following in the footsteps of the famous player from Niš and the famous "Bananaman" were given the opportunity to train in front of their idols, and the best among them will attend school for six months without any financial compensation.
The game started in Belgrade, in the open football class with the Red Star ace Aleksandar Katai, and continued in Niš. In addition to free football and basketball schools, as part of Mozzart's large project, the children will be given an opportunity to show their skills on the handball court in Arandjelovac (25 April with Ratko Nikolić), or on the volleyball court (New Belgrade, 8 May, with Vesna Čitaković).
There should be schools like this in every city, because many families cannot afford trainings to their children. This is also a great way to motivate them to engage in sports. We have seen many talented girls and boys and I hope that some new pearl will be born on this field. Thanks to Mozzart for all the ideas, and to the Marinos for the conditions provided to the children - Stefan Jović pointed out, with the message to the children to be persistent: - The most important thing is to develop a love for basketball, to give one hundred percent and to believe. There will be a lot of ups and downs, I often wondered if I should give up, but basketball has always been above all problems. I had great support from my family and that is advice for parents as well, to always be with their kids and to support them.
Željko Rebrača, one of the best basketball centers in the world during the 1990s and a medal winner in the biggest competitions, took the ball for the first time at the age of 14, which is proof that it is never too late for sports.
All these kids need to become good people in the first place, and then they can succeed anywhere. Sport brings people together, teaches you the basic principles of life, and whether someone will eventually be a top athlete is not so important. It is only important that there are projects like this, that we motivate the children. In my time, everything was different, I changed trains and buses to come to training, but nothing was difficult for me. We had energy, it was all a game. And what happened next is just a consequence of all that. That is why everyone should dream the biggest dreams, and if they are committed and love what they do, they can make dreams come true – Rebrača says.
Kids will have the opportunity to train twice a week, and the school is organized in cooperation with the BC Marinos.
Experienced basketball coaches will work with the children. We have a well-coordinated team that is constantly being upgraded, our school is known for its professional work, correct methodology and pedagogical approach. A little less than 4 years ago, when a group of experienced enthusiasts formed BC Marinos, the idea was exactly this, to return sports to children and establish a socio-economic balance from some better times. Like in the past, children should be provided with everything they need at trainings, from jerseys, props, drinks ... With the Mozzart's support, that idea came true and we can't be happier - says Miloš Dimitrijević, secretary general of BC Marinos.
Mozzart's project was supported by the Ministry of Youth and Sports, and the city councilor for sports, Aleksandar Stojičić, attended the event in Niš. Applications are still in progress for the remaining two schools - handball in Aranđelovac and volleyball in Belgrade, and you may find all the information HERE.