TONI ĐERONA: PLAYERS WOULD CHANGE THE CHAMPIONS LEAGUE CUP FOR THE BRONZE IN THE NATIONAL TEAM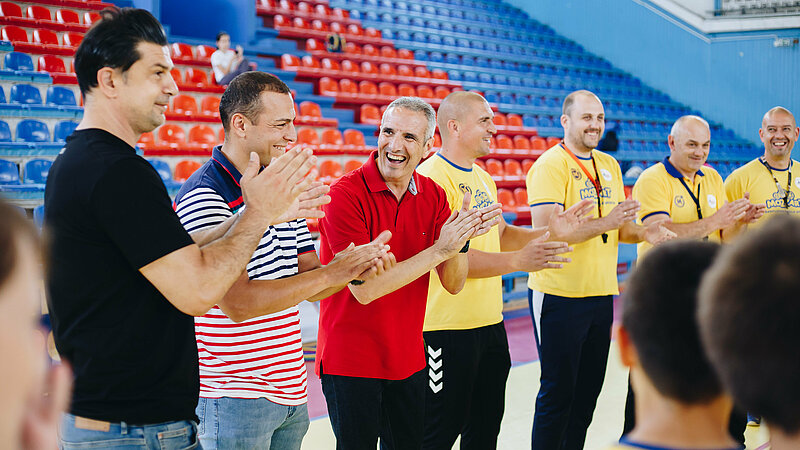 "How's that possible that you have such strong players in the national team?"
Tony Gerona was asked this question by a student of Mozart's Free Handball School in Aranđelovac.
"They worked as hard as you".
Just like Piksi at the Free School of Football, the manager of the national handball team made the kids who got the opportunity to train for six months without paying the membership fee for one day feel like those big, strong members of the national team.
And, the Spaniard felt proud when he heard the information before the training that the greatest interest in the free school project was for handball, in addition to football, basketball and volleyball which were also offered…
"It's only important that they don't spend so much time in front of various screens, but to play sports. If they chose handball, then that is another great news. I applaud them and those who made this wonderful school possible, Mozzart, Ratko Nikolić, all the coaches… I haven't heard that there is such a concept in Spain, usually schools are only subsidized by the city or an institution, and the fact that no membership fee is paid is to be commended".
Ratko Nikolić, together with his great associates, gathered about a hundred children who do not miss trainings in the Šumadija hall. It coincided with the decision to engage the Spanish coach as manager of the national team of Serbia and atomic handball which was performed in the qualifications for the European Championship, so in the eyes of corpulent talents from Šumadija, the national team players now look like their idols who they admire.
"Good afternoon, how are you", the national team manager addressed them in Serbian, and the famous Dragan Škrbić translated the rest from Spanish. "Thank you for being here and for being in the world of handball. Maybe one of you will really play in the national team one day, but now the most important thing is that when you come home, you say - it was really nice, I want to go to training again. In these years, you just have to enjoy the court. "
Tony also enjoyed being with the legends of our handball and young talents eager to train, and in the interview with Mozzart Sport, he pointed out that he misses actions like this in his hectic agenda as coach and national team manager.