Marketing Director Dejan Kosanovic on the secret of his team's success: What makes MOZZART's "complete package"?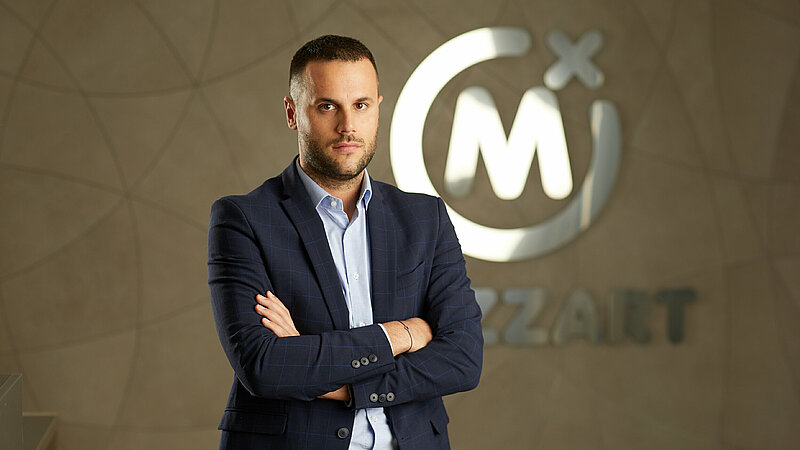 Known for organizing interesting events with attention-grabbing participants, Bizlife recently gathered people from the world of business within the school of modern Balkan cuisine "Miele Kitchen Experience", run by renowned Belgrade chef and founder of the concept "New Balkan Cuisine" Vanja Pushkar. Apart from deomstration of their culinary skills, they talked about their experience of success. One of them was our marketing director Dejan Kosanović, who spoke about the secret of his business success, but also about what makes Mozzart's "complete package", which was the reason for us to interview him about that topic.
As a marketing expert and speaker at numerous conferences and seminars dealing with this topic, Dejan is in a great position not only to, following the trends in the industry, together with his team devise original campaigns for our company, but also to explain to us at what are the ways to effectively advertise your business today and what are the biggest challenges in that mission.
Speaking for Bizlife magazine about Mozzart's business successes in the year behind us, you said that through the campaigns "More than a point" and "One hundred courts for one game" we united basketball as a national sport, social responsibility and promoters enjoying the status of legends, and called that trinity a "complete package." What else makes a Mozzart package, from the point of view of our marketing?
First of all, thank you for the kind words and introduction. On the marketing side, Mozzart's package consists of sports, entertainment, social responsibility and Ronaldinho. Most of the campaigns we do for the Serbian market we adapt very quickly and efficiently for other markets in which we currently operate.
Aiming to justify the status of a leader in the region in the field of games of chance with new campaigns - but never forgetting our commitment to be a socially responsible company - in the last two years we have distinguished ourselves from the competition with unique campaigns during major sports competitions. Examples include "Million reasons to score" (World Cup Russia 2018 in football) and "More than a point" (World Cup China 2020 in basketball), which are designed so that Mozzart donates money to charity, depending on the results of our national team at that competition.
During these two competitions alone, more than 4,000,000 dinars were donated to the people who needed aid the most. In addition, we have another exciting sports summer ahead of us, as the Olympic Games and the European Football Championship are waiting for us, so on this occasion I promise you that the best and most innovative campaigns are yet to come.
As one of the pioneers of digitalization in the domestic market, Mozzart introduced online betting a long time ago. Since we already had the products which were to be offered to players on the Internet, most of the work consisted of designing their placement, when the team you lead entered the scene. Two years ago, you spoke about the successful management of e-commerce at "Digital Day", one of the most significant and most important digital interactive conferences in the region, which also included the topic of business transformation, about which you also shared your experiences and views with regional forum "Challenge" participants. What could you single out from your talks with domestic and foreign experts in the field of digital marketing and leaders in the communications industry when it comes to the way our company has entered the Internet business? What did the "Mozzart package" consist of in that domain?
Mozzart readily welcomed, now a long-standing, trend of moving business from offline to online, and how seriously the company took this task is best illustrated by the fact that we have a website and mobile application of high performance, with state-of-the-art design.
Guided by the user experience and proposals of our players, which we constantly listen to, we work every day to improve them, so that players can use our services faster and easier. In addition, it was necessary to educate the players, which we still do today in terms of reminding them that entertainment is at their fingertips - either on a mobile phone or computer, and that they do not have to go to the place of payment to pay for a ticket.
The essence of marketing could - along with some other compulsory elements - be reduced to originality, for which talent is crucial again. On behalf of Mozzart as a company which is synonymous with these terms, at the conference "Disrupt or be disrupted", whose trademark is a different approach to sustainable business, you were one of the speakers at the panel "Accelerated talent development". What is concluded there when it comes to the importance of having (young) talents in their ranks, and more importantly - their motivation? How is the maximum "extracted" from employees, in order to achieve and ensure originality, which is increasingly important nowadays?
We must not forget that employees spend a third of their whole day at work, every day, so it is extremely important how each of them experiences the atmosphere at work. In addition to the modern work environment, team spirit, internal and external training that the company provides to its employees, it is important that the members of the teams in which we work feel the "chemistry" in order to perform their work tasks as efficiently as possible.
The atmosphere characterized by high efficiency, fast flow of information, quality formal and informal communication, in which employees are free to express their opinions and views, but are at the same time focused on the company's goals - is a suitable ground for achieving top results.
The fact that employees can use time at work and for activities that are not strictly focused on work (gym, SonyPS and table football), as well as various activities outside the workplace in which everyone participates (such as team building) creates a positive atmosphere, because we have the opportunity to meet colleagues in another context and thus see our close associates in different kind of light, outside the place where the work takes place. Also, it is very important that each of us gets the freedom to deliver their results, according to the principle "tell me what I need to do, and I will do what I want in my own way".
Restrictions applying to gaming industry bring additional challenges and requirements before us - generally, but especially when it comes to marketing. Given your current position, you were an ideal interlocutor on this topic at the marketing Vivaldi forum of the Mokrogorska School of Management, and now share with us please what it means in practice to move exclusively in the "18+" marketing framework. How does Mozzart apparently successfully overcome obstacles of this type?
The 18+ limit forces you to think, as marketers would say - within the box, and we persistently try to be original and get out of that imaginary box, and to distinguish ourselves with our campaigns from other competitors in the gaming industry, observing the legal framework, which we certainly succeed in doing.
On the other hand, we find ourselves every day in a situation where our competition uses celebrity athletes and team coats of arms in their online advertising (especially on social media and their websites), which is legally prohibited, since they do not have signed sponsorship agreements. We take great care of the way we communicate, as well as the target group we are addressing, which makes our campaigns unique and effective