TORCHES AND FIREWORKS OF EMOTIONS - GROCKA GOT BASKETBALL COURT DEDICATED TO IVAN PAUNIĆ!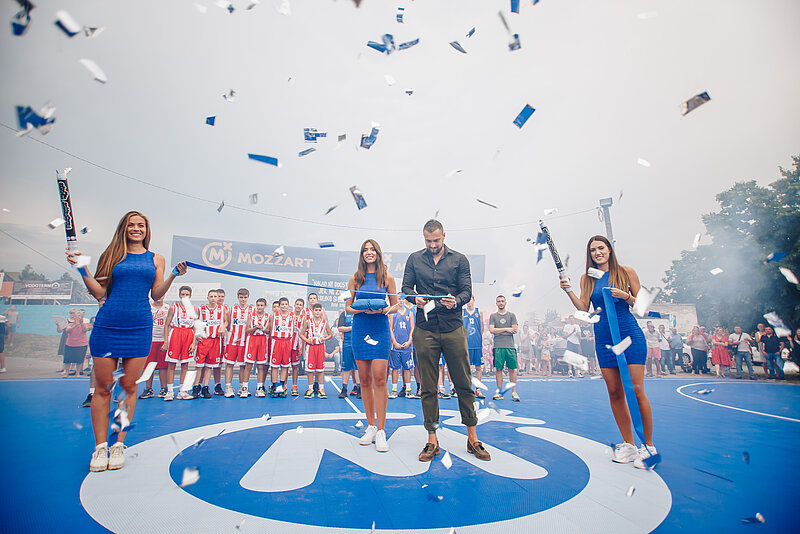 [Translate to English:]
The fireworks that thundered over Grocka last night symbolically marked the explosion of emotions of the guy who dedicated his whole life to basketball. A member of the generation of golden boys of Serbian basketball and the famous Duda's silver team, which reached the finals of Eurobasket in 2009, he made his first basketball steps three decades ago and dreamed of 3-pointers on a basket without nets, in a settlement near the Danube. This ruined playground now looks completely new, as well as the 86 previous ones that were renovated as part of Mozzart's action "One Hundred Courts for One Game", and from today it will be called - Ivan Paunić's court!
Framed nets, medals and jerseys made the opening ceremony more festive and presented the rich career of the basketball player who played for as many as 17 clubs, but gave his best performance in the national teams. As a child, he dreamed of following in the footsteps of Bodiroga, Đorđević, Danilović, and some of the legends of Serbian basketball sent him video messages and congratulated him on the well-deserved recognition given to him by Mozzart. The famous coach Miroslav Muta Nikolić did it live, while Nemanja Bjelica joined the event via video call to greet a great friend.
"This court and this picture of me are the most beautiful things for me, the biggest trophy in my career, with all the medals I have won. The greatest aces of Serbian and European basketball started playing this game on the courts like this, because in our country, basketball is played in front of every building. Thanks to Mozzart for taking care of the medal winners, but also of our sport. It is a great thing for our youth that the ruined playgrounds across the country are being renovated, because what motivation will the children have to play basketball if there is no net on a shapeless basket? This is a completely different story, and I am utterly happy that the boys and girls from my neighborhood will have all the conditions to play basketball", Paunic told his neighbors before cutting the ribbon.
The ceremony was also attended by the president of the municipality of Grocka, Dragan Pantelić, and the young players of BC Vuk and BC Gro basket Grocka were the first to try out the new court. Ivan proudly watched as some new kids continued to spread basketball fever nearby the Danube.
By cutting the ribbon, the playground was officially opened, and while confetti were flying all around the renovated playground, several guys lit torches near the Dunavac stadium to make the atmosphere more exciting on a hot summer day.
"Basketball gave me everything, thanks to it I became rich, but not in a material sense. I think that some values have no price and cannot be bought - friendship and unbreakable connection with all these people who sent messages today and many others, then honor to be a member of the national team, to climb on the famous balcony in front of 100,000 fans. This is the crown of my career, today I am becoming an even richer man, because the Mozzart company invested efforts to make this playground", concluded Paunić, while fireworks were shining over Grocka.
It was also a spectacular way to mark the continuation of Mozzart's famous action "100 courts for one game" ... The blue-and-white background, a springboard for new championships, will soon shine in other cities across Serbia.
"This is the 87th court that we are opening as part of our famous action, which aims to bring young people back to true sports values, to socialize and play sports, professionally or as a hobby. Great basketball names from Serbia and the Republic of Srpska grew up and learnt basketball on the courts like this one, and their renewal provides an opportunity for some new kids to follow in the footsteps of the champions. We are glad that so many of our fellow citizens from Grocka came today to make the event more festive and congratulate Paunić on the "biggest trophy" in his career, as he said. This summer, we will continue "100 Courts for One Game" campaign zealously, but I would not like to reveal the names of cities and celebrities who will join us, but I can say that we will continue our socially responsible mission and investment in sports infrastructure throughout Serbia, "said Borjan Popović, Director of the Corporate Communications Department.
[Translate to English:]
TROJКE ZA BOŠКA GUGLETU
Na samom kraju svečanosti, organizovano je i takmičenje u šutiranju trojki, a najuspešniji su osvojili vredne novčane nagrade. Već po tradiciji, svako otvaranje terena ima i humanitarni karakter, jer za svaku pogođenu trojku na novim koševima, Mocart donira novčana sredstva. Ovoga puta su sredstva usmerena u fond za lečenje malog Boška Gugleta.