TEAM GAME FOR HUMANITY - BC PARTIZAN AND MOZZART HELPED THE CENTER FOR CHILDREN AND YOUTH "DRINKA PAVLOVIĆ"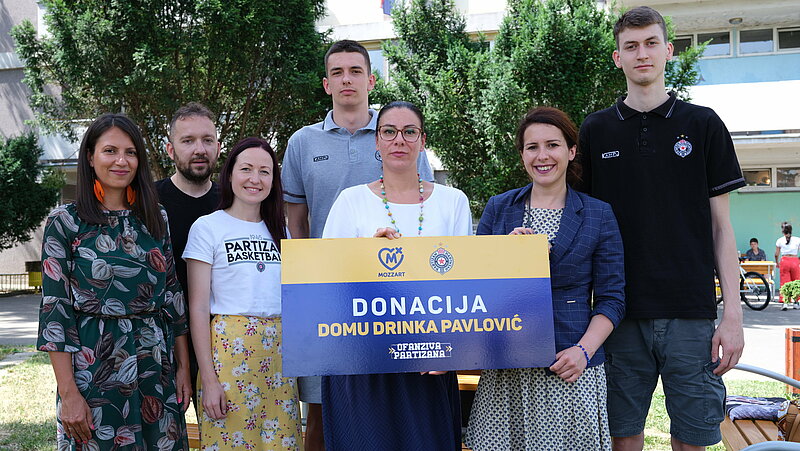 Young Partizan basketball players increased the amount of the donation by offensive rebounds throughout the season.
Athletes always say that individual figures are not important, but only the result of the team. Basketball club Partizan is trying to spread the team spirit in the younger categories, and this season one statistical parameter was not only an indicator of the great fighting spirit of the teams, but also of the joint game for humanity! Each offensive rebound of juniors and cadets increased the fund for the donation to the Center for Children and Youth "Drinka Pavlović", with the support of the long-term partner of the black and whites, the company Mozzart.
"In the younger categories, we try not to give so much importance to the numbers and individual statistics of the players, but to build the team spirit and fighting spirit of the entire team. That is how we came up with the idea to combine those two things, to give them a humanitarian character through the "Partizan's Offensive" action. Our friends from Mozzart decided once again to help us achieve our goals, so they paid the donation for "Drinka Pavlović" Center. The plan is for this to become our permanent action ", said Ana Tomić, a member of the PR team of BC Partizan.
For the spirited guys in black and white, the offensive rebound this season was more than just stats. During the visit to the "Drinka Pavlović" Center, young basketball players Nikola Radovanović and Marko Vukčević pointed out that they were very glad to participate in this humanitarian action and helped raising as much as possible money with their rebounds.
Hristina Kadijević, manager of "Drinka Pavlović", thanked the Basketball Club Partizan and the company Mozzart for the donation, which they used to equip the premises:
"This is a significant help for our children, and at the same time an opportunity for us to inform them who the athletes are, who their idols are and what they should strive for. The Mozzart Company has helped our institution even before, as well as the BC Partizan, which has been supporting us for 20 years, not only through providing New Year's gifts, but also through many other actions. "