PIKSI VISITED FREE FOOTBALL SCHOOL: ALL CHILDREN DESERVE A CHANCE!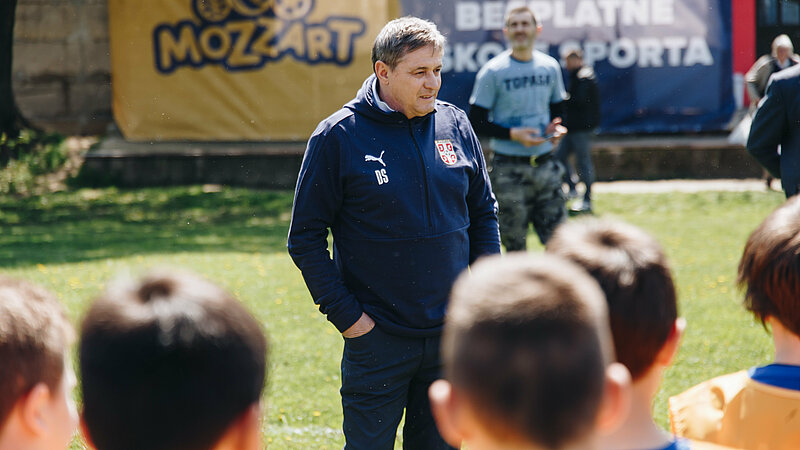 Today, children can see the moves of "Maradona of the East" only on "YouTube", and elementary school students from Mozart's Free Football School got the opportunity to watch Dragan Stojković Piksi live! The manager of the Serbian national football team surprised the kids aged 7 to 10 who were chosen to attend the unique school on the fields of FC Mladi Mabat in Zvezdara. Together with other coaches from the coaching staff - Saša Ilić, Goran Đorović and Bratislav Živković, he led the training and made all the young talents already feel like members of the national team.
The project is being realized in cooperation with the "Training Plus" school, and the strategist of "Eagles" supported the idea of making the sport accessible to all children again.
The fact that the trainings are free is to be commended, because in that way everyone is given a chance. The beginnings should remain in the most beautiful memory. In Radnički from Niš, I didn't have to pay for a membership fee, I was welcome at every training. It doesn't matter what your name is or what your status is, all children deserve a chance. The Free Schools Project is a guide for other people who want to do this kind of work, which is a pleasure at the same time. I am very happy that there is so much enthusiasm to attract children to sports, it is the most beautiful thing at their age. We want to give full support to Mozzart and all the coaches, all this is impressive – emphasized the national team manager.
Piksi showed some tricks from his youth, but the tips from the rich player and coaching career of the legend of our football meant the most to the kids and young professionals from Mabat.
Football is a school of life, and coaches in the first place have a great responsibility to keep the children on the right track. To educate them and teach them how to be good people. The task of all these kids is just to enjoy playing with the ball, which is the most important toy at this age. Children should play, not compete. That is not a priority at this age. They should enjoy, try to master the technical things that are important. They have enough time to understand that football can be their occupation - Piksi tried to bring the essence of this school and sports in general closer to children.