MOZZART HELPED HEALTHCARE WORKERS THROUGHOUT THE YEAR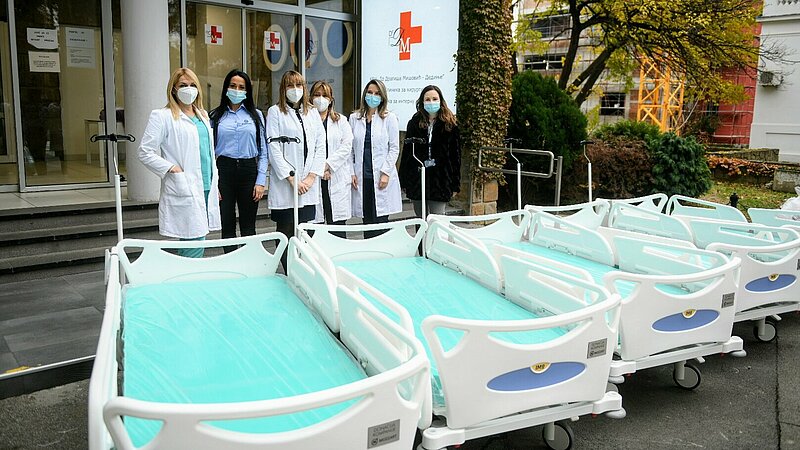 From week to week, financial aid or assistance in the form of medical and technical equipment was donated to health institutions across the country. Even on the last day of 2020, a donation arrived - to the new Covid Hospital in Batajnica.
Support to healthcare workers has been needed more than ever this year, and Mozzart has placed emphasis in socially responsible work in recent months on supporting the country's heroes in the fight against the coronavirus. From week to week, donations arrived in hospitals throughout Serbia, and even on the last day of 2020, equipment was delivered - 500 members of the medical staff of the Covid Hospital in Batajnica received clogs.
We feel appreciated to company Mozzart for its continuous support and for responding to our every need as soon as possible. We try to be available to all patients 24 hours, seven days a week, and such gestures show us that we have someone to rely on – said Biljana Jokić, nurse coordinator.
Previously, the entire hospital team at the Dragisa Mišović Clinical Hospital received uniforms, and manometers were delivered to the Covid Hospital in Pancevo. Financial aid, or assistance in the form of medical, protective or technical equipment during the year was delivered to general hospitals in: Kikinda, Uzice, Subotica, Cacak, Sremska Mitrovica, Novi Pazar, Cuprija, then Studenica Hospital in Kraljevo, KC Nis, Clinic for Tropical and Infectious Diseases within KC Srbija, Clinical Hospital Center in Kosovska Mitrovica, VMA (Military Hospital in Belgrade), KC Kragujevac, ZC Vranje, KBC Zvezdara, KBC Zemun, Orthopedics in Banjica, temporary covid hospital in Chair (Nis) ... Water supplies were delivered to the temporary hospital in Arena (Belgrade).
Hospitals were donated state-of-the-art intensive care beds, ECG devices, protective equipment, medical aspirators, flow meters, centrifuges for the laboratory, which make analyses necessary in the fight against covid faster and easier, then bedding, coats for doctors and financial resources.....
As much as 75 tons of fruit were distributed through vitamin packages to doctors, and the action was supported by many celebrities and athletes.
Since the beginning of the epidemic, we have tried to supply what the hospital staff needs most as soon as possible. We immediately donated 200,000 euros for the purchase of respirators, and throughout the year we had actions across the country to help healthcare workers, who bear a heavy burden in the fight against the coronavirus. Belgrade is still one of the largest hotspots, so the emphasis at the end of the year was on helping covid hospitals in the capital - said Borjan Popovic, director of corporate communications at Mozzart.