MORE THAN ONE HUNDRED APPLICATIONS IN THE COMPETITION FOR SUPPORT FOR WOMEN ENTREPRENEURSHIP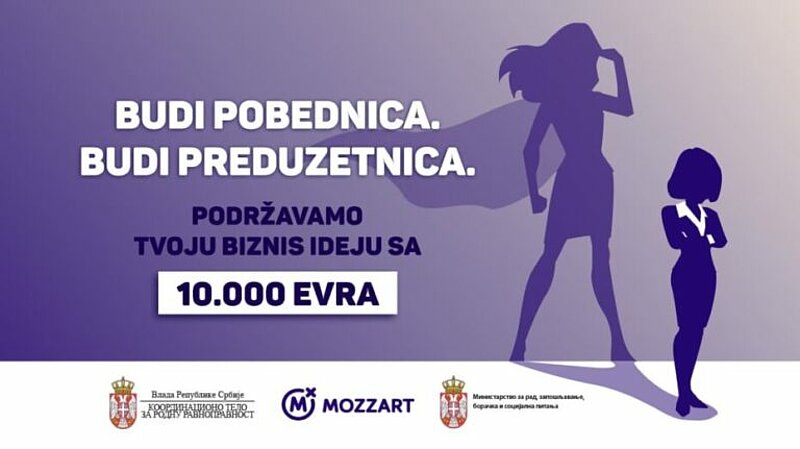 [Translate to English:]
More than one hundred women apllied to the competition "Be a winner, be an entrepreneur"!
Company Mozzart, in cooperation with the Ministry of Labor, Employment, Veterans and Social Affairs and the Coordination Body for Gender Equality, announced a Public Call for allocation of grant in the total amount of 50,000 euros, i.e. 10.000 euros each for five unemployed women with the best business ideas, and the turnout was great.
The support includes a grant to finance the best business ideas, based on the submitted Application for allocation of funds for self-employment, which describes the project proposal for starting and running a business.
Properly submitted applications and business ideas will be the subject of decision-making by a five-member Commission consisting of representatives of the Ministry of Labor, Employment, Veterans and Social Affairs, the Coordination Body for Gender Equality and company Mozzart.
The winning applications will be published on the websites of Mozzart, Ministry of Labor and the Coordination Body, within the next thirty days.
The goal of this action is economic empowerment of women, promotion of gender equality, development and promotion of entrepreneurial spirit and encouragement of entrepreneurship among unemployed women, especially in underdeveloped areas, as well as improving efficiency and institutional support for business and development of women entrepreneurs.
"We launched this project with a goal of helping women to be economically independent, and the large number of applications received is proof that there is a lot of potential for the development of women's entrepreneurship in Serbia." There is a plenty of ideas, women just need to be encouraged to start businesses. We know that it is not easy to decide on that step, especially during this uncertain situation with the coronavirus, but such actions are the best opportunity for us to provide support. Not only in the financial sense, Mozzart will help the winners in marketing, i.e. media promotion of their businesses ", emphasized Borjan Popović, director of the Mozzart's Corporate Communications Department.