FROM TIRŠOVA HOSPITAL TO CLINICAL CENTER NIŠ – LARGE ACTION OF EQUIPPING CHILDREN'S HOSPITALS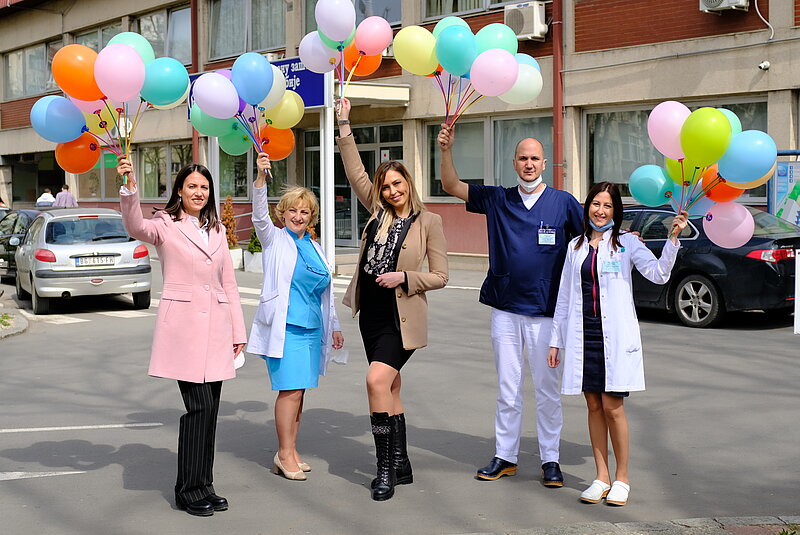 [Translate to English:]
Modernization of neonatal departments in hospitals across Serbia is vital for premature babies, and Mozzart, in cooperation with the Ministry of Health, donated two incubators last week - to the Clinic in Visegradska Street and Clinical Center Nis. As part of a large action of equipping clinics that take care of the youngest patients, financial aid and necessary devices arrived in Tirsova Clinic, as well as in the Institute for Maternal and Child Health of Serbia "Dr Vukan Čupić" in New Belgrade.
In all these hospitals, the most important battles are fought every day, and incubators "mean life" for newborns who were born prematurely.
I would like to express my gratitude to Mozzart for the cooperation and understanding of the needs of children's clinics so far. This significant donation, to our youngest patients, premature babies, will be extremely important for their treatment, and in many situations for saving lives, because we, as the largest healthcare institution of the tertiary type, to which about 2.5 million inhabitants gravitate, treat and care for children from the entire region of southern and southeastern Serbia. I am really happy and grateful for this help, which is certainly welcome, because we, as the Management of the University Clinical Center (UCC), are already working hard to maximize the quality of health services in children's clinics and gynecology clinic, both with new equipment and devices and through professional development of our staff, because children are our future - said Prof. Dr. Zoran Perišić, director of UCC Niš.
In the Clinic in Visegradska Street, they have up to 6,000 births a year, and about 12 percent of babies are born prematurely.
We have a large intensive care department, and we needed the incubator in our daily work and we already use it. At this time, the most distinguished are socially responsible companies that want to help health care system in Serbia, by donating modern appliances. Once again, I'm grateful to Mozzart for the exceptional gift - said Dr. Aleksandar Stefanović, director of GAK (maternity hospital) in Višegradska Street.
As part of a large action of equipping children's clinics, the company Mozzart donated a pressure measuring device, mechanical stroller, ECG device, baby scale to the Institute for Maternal and Child Health of Serbia "Dr Vukan Cupic" in New Belgrade... LED phototherapy lamp was donated to Tirsova Hospital, as well as financial aid that was collected in the action Humanitarian Ticket at Noon - the legendary Moka Slavnić bet brilliantly and forwarded the win of 126,700 dinars to this hospital.