Dreams of the Stojićević family fulfilled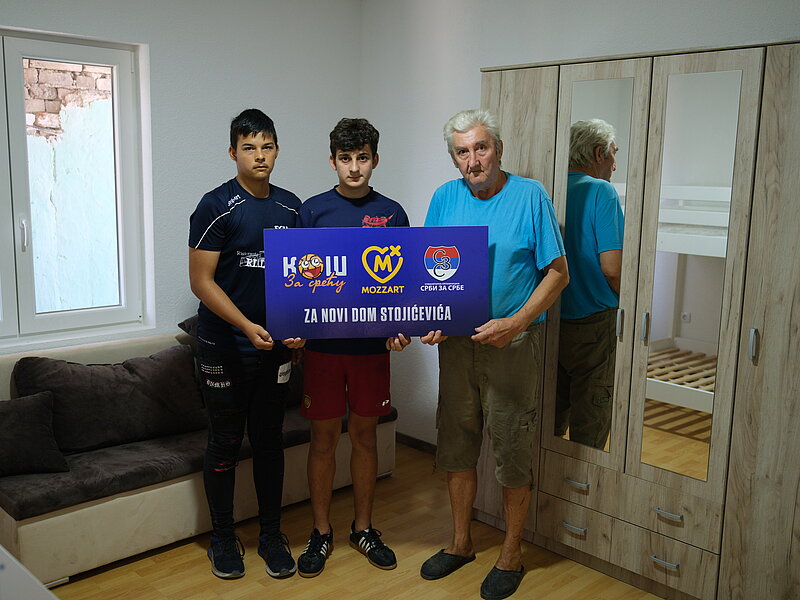 Money was collected in the joint action of the Basket for Happiness (Koš za sreću) and the charity organization Serbs for Serbs (Srbi za Srbe)
The Stojićević family from Pećinci has received a new home! A charity basketball game in the joint action of "Basket for Happiness", organization "Serbs for Serbs" and Mozzart was organized for their better future in which more than two million dinars were collected.
This great action of arranging home for the six-member Stojićevič family was initiated at the end of June, immediately after the end of the charity game, which was for the first time organized as the Mozzart Basket for Happiness (Mozzart Koš za sreću). The game will remain remembered for the record amount of money that was collected, of which the majority was contributed by donation of Mozzart, in the amount of 12,000 euros.
Today, wet walls, humidity, cold, lack of bathroom and the old furniture are just an ugly past for Bojan (11), Milan (14), Marko (15), Kristijan (17), their mother Svetlana and grandfather Radovan. The works on construction of the home that the Stojićević family had started long time ago, but which they had to stop due to poor financial situation, have finally been completed. Their new home is completely arranged, painted and equipped with new furniture, windows and doors.
"There are no words to express our gratitude, each day we are again and again happy to be in the home we received and we are grateful for the help that came to our address. My grandchildren will finally have better conditions for life as well as happier childhood. We will leave all hard moments in our old house and take and cherish only new memories to our new home" said grandpa Radovan.
For the better future of the Stojićević family, at the charity game that took place on 21 June at Kalemegdan Željko Rebrača, Stefan Birčević, Ivan Punić, Nikola Mišković, Vule Adalovic, Luka Mitrović, actors Miodrag Dragičević, Stevan Piale, Mladen Sovilj, actress Lenka Petrović, volleyball player Tijana Milojević, basketball player Višnja Stefanović, rappers Nikola Jelić Mikri, Boško Ćirković Škabo and many others took their part.