Pure love for clean environment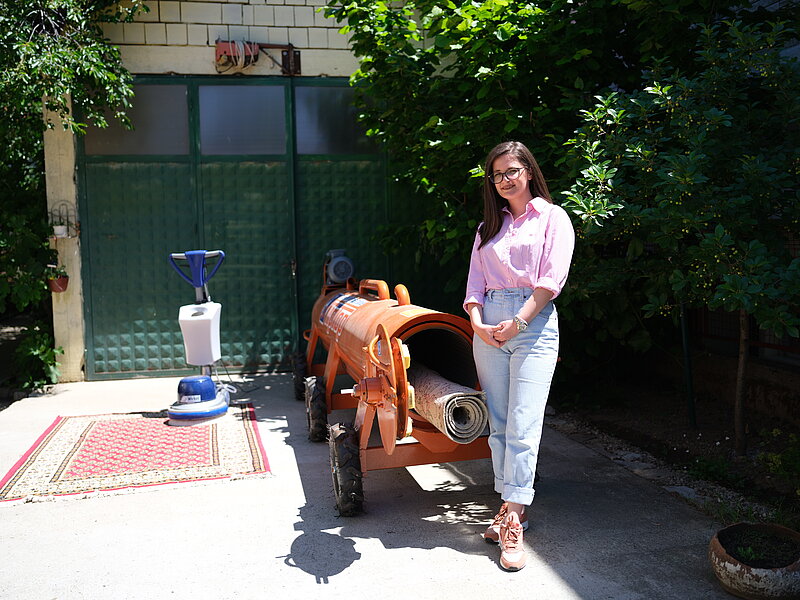 Miljana Mišić started her entrepreneurial career out of pure love and she was enabled to be successful at it by the funds from the contest that Mozzart organized in association with the Ministry of Labour and the Coordination body for gender equality
She graduated from the faculty in Belgrade, Department of Ecology, and continued with the professional practice in the Healthcare Centre of Vranje, Department for Disposal of Medical Waste. It was exactly this insight into the hygiene of the healthcare centres that inspired Miljana to consider the possibilities of accelerating and improving the cleaning process, and at the same time, to reduce the volume of waste that is produced in the process. This is how she founded the company for cleaning and maintenance of residence and business buildings "Bibi clean".
"I started with research if there was a process of cleaning that excludes the use of chemical substances, and this is how I found my favourite machine – vapour steam cleaner. It works at the temperature of 190 ◦C and kills bacteria and mites, which also reduces allergy reactions of people. I have come to idea to give an ecological character to my agency and to practice only machine cleaning", Milijana said starting to talk about her story and the way she managed to turn her love for ecology into the business plan.
"Owing to the funds that I was granted at the Mozzart contest, I bought professional machines. From the very start I knew that I want my business to be completely motorized, which requires the budget that I could not have afforded by myself. Without this contest, I would not have been able to start the journey I dreamed about – to start with machine cleaning, which reduces the use of mops and sponge, as it can all be done with the help of machine. This significantly reduces the time of cleaning, which is very beneficial for the user, along with the ecological aspect which must not be neglected in any way".
She is of the opinion that the Mozzart contest is a brilliant idea as it represents a huge incentive for women that have great dreams, and Miljana suggests patience, persistence and perseverance to all of them.
"Starting your own business is not an easy process, but for me, the fact that you can plan your own day, create your time, make great plans and make progress, is priceless. It is a kind of stress, but it is certainly a wonderful experience. I have learned a lot through this process, I go forward and develop new ideas" explains Miljana, which is why the enthusiasm which arises from doing what you have chosen is priceless.
I am particularly happy that the contests of this kind help young people to stay in their home towns, and to build life in their country instead of leaving "seeking for your fortune".
"I think that the young are more and more feeling the need to stay here. My friends would also be happy to have the same opportunity, they all have good ideas but, unfortunately, without the financial incentive. Contests like this one that Mozzart has organized offer to the young the opportunity to stay in their country and to start their families here. We all have dreams and hope that everything will be exactly as we have planned. I would like to express my gratitude once again and to thank Mozzart for enabling me to make my dreams come true".
SEVEN WOMEN, SEVEN IDEAS, SEVEN DREAMS THAT CAME TRUE – OWING TO MOZZART
Apart from Miljana, Mozzart fulfilled the dreams of Jadranka Dimitrijević who manufactures sage in Klek, Jelena Mlađenović who has opened a bakery in Ub, Dragana Simić who produces national costumes in Ćićevac, Ivana Cvetković who produces craft beer in Aleksinac, Nataša Janković who produces labels for textile industry in Šabac and Lana Kurteš who produces candles in Novi Sad. Their unanimous message to all the female entrepreneurs is to believe in themselves and in their ideas, and as long as there are companies that recognize and support that, all dreams can turn into a realistic and realizable plan.