PLAYERS OF THE FIRST TEAM OF THE RED STAR VISITED FREE FOOTBALL SCHOOL IN NOVI SAD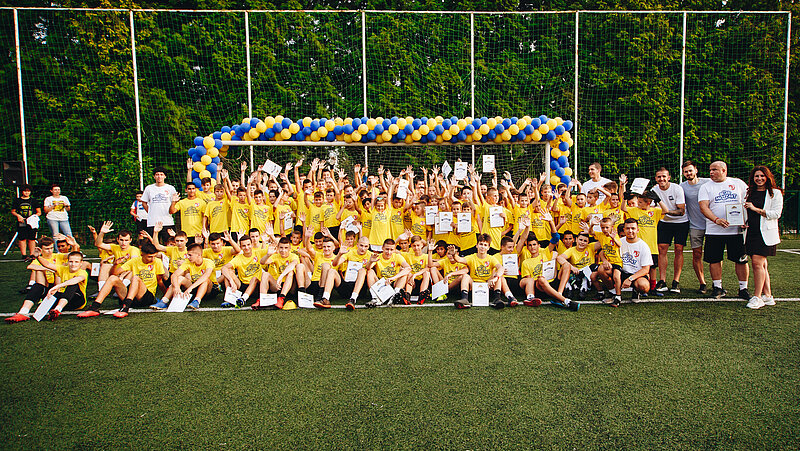 [Translate to English:]
Football is better live than in the form of computer games ... The children from Vojvodina were convinced of that, because the message "talent has no price" continues to spread throughout the country. The Mozzart Company, in cooperation with famous athletes, is opening free sports schools, and after Belgrade, Nis and Arandjelovac, they came to Novi Sad. Together with Petar Puača, a former member of the national team who runs the trophy school for juniors, another football school was launched, and in the first class about 150 children had the opportunity meet Red Star's first team players Mirko Ivanić and Aleksa Vukanović!
The Red Star players were special guests at the open class in Sports Center "Sajmište" and handed diplomas to small football fans from all over Vojvodina. There was great interest in the introductory training, and 100 children will be chosen to train three times a week at the same location during August, without paying membership fees.
"This project is fantastic for children, for parents, for the city. We already saw in the first class how much the kids from this area love football, and it is wonderful that no membership fees will be paid. I know that they are necessary in order to pay coaches and provide good conditions, but it is also important that doing sports should be available to all children, "said Mirko Ivanić.
The guy from Novi Sad – member of the FC Red Star, assisted by Vukanović, gave advice and handed diplomas to young talents.
"This event brought me back to my childhood, I remember how excited I was when I saw one of my idols," Mirko said with a smile. "It is very important for children to meet famous players, I think that motivates them a lot to continue playing sports. At this age, it is not important for them to compete, but to socialize, play ... To be less with their mobile phones, and more active in sports. It's not their fault if they play games all the time, it's up to us seniors to motivate them and direct them towards sports, to give them some other hobby in order to be more active, and this Mozart project is just one of the ways."
Aleksa Vukanović agreed that the game is the most important, and he was delighted with the turnout and large number of kids who came to try out their skills on the football field.
They were divided by age groups, and eight coaches, led by Petar Puača, will select the children for the school.
"We have prepared a number of surprises, we expect that famous names from the world of football will visit the school every week. Thanks to the company Mozzart, which recognized that our school works well with children and included it in the program of free schools. We will hold trainings three times a week, and with the help of Mozzart, the best participant will have an opportunity to join the football camp led by Dejan Stanković. Besides, we will award one-year membership fees for our school", revealed Puača.
The event was also attended by the president of the Football Association of the City of Novi Sad, Novak Kostrešević.