NEW INVESTMENTS IN SERBIAN SPORT - MOZZART BIG SUMMER BENEFIT FOR TEAMS – MEMBERS OF THE SUPER LEAGUE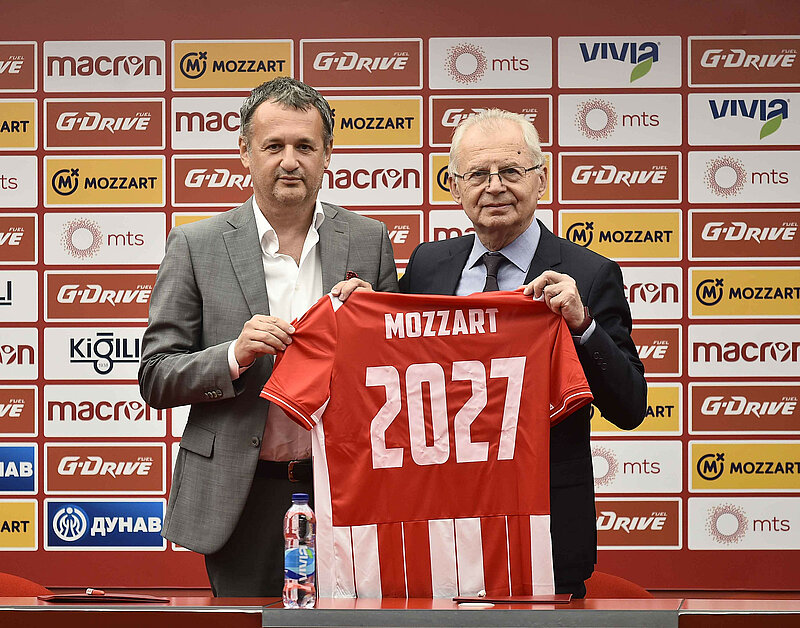 [Translate to English:]
From rural playgrounds to the footbal fields in the Champions League ... From lower-class clubs that receive help through the action "New Jerseys for New Champions" and numerous donations, to sponsorships of the largest sports teams and associations in the country ... Mozzart continues to invest in sports throughout Serbia, and this summer it extended its cooperation with FC Red Star until 2027, supported two members of the footbal Super League from the north - FC Vojvodina and FC Spartak, as well as FC Radnicki 1923 from Kragujevac.
The red and whites, with their exclusive betting partner, have been implementing many socially responsible actions for a long time, as well as marketing campaigns dedicated to the promotion of football. The management of Zvezda also recognized the importance of donating equipment to smaller clubs, so they joined the famous action "New Jerseys".
"This is a very important cooperation and I am glad that it continued after two very successful years for both sides. The Red Star always strives to be a partner with the best parties, such as the Mozzart Company. It is important to emphasize that we will work together also on humanitarian actions - said the president of Zvezda, Svetozar Mijailović, who handed the jersey with the symbolic number 2027 to the general director of Mozzart, Slobodan Prodanović.
Long run support is intertwined with the ambitions of the Serbian champion to maintain dominant position in home competitions in the coming years and make even better results in the European ones. Vojvodina and Spartak want to go the same way, and the so-called "Lale (Vojvodina)" received support this summer before the decisive matches in the qualifications for the Conference League.
"This is the route of a new path we want to take, and we are happy that an exclusive new member, Mozzart, is joining us on that path, which will surely bring us a lot. I am especially pleased that this company comes from the world of sports and that football has brought us together. I am convinced that this cooperation will be successful in the long run", emphasized the president of FC Vojvodina Dragoljub Samardžić.
Mozzart also became a sponsor of the handball club of the same name, and support for teams on the territory of Vojvodina continued in Subotica. The regional leader among providers of games of chance also established a partnership with FC Spartak, which wants to return to the leading teams in the Super League and secure participation in the European competitions.
"We are very pleased to have established cooperation with such a large company as Mozzart. This is a reliable indicator that we in Spartak are working well, both on the football pitch, but also in other segments. In the coming period, the club will strive to make progress in all areas, including marketing. Signing of the sponsorship agreement is just the beginning of a cooperation that will consist of many useful things for both sides, "said the president of Spartak, Nikola Simović.