Mozzart stays with Safe houses during the entire year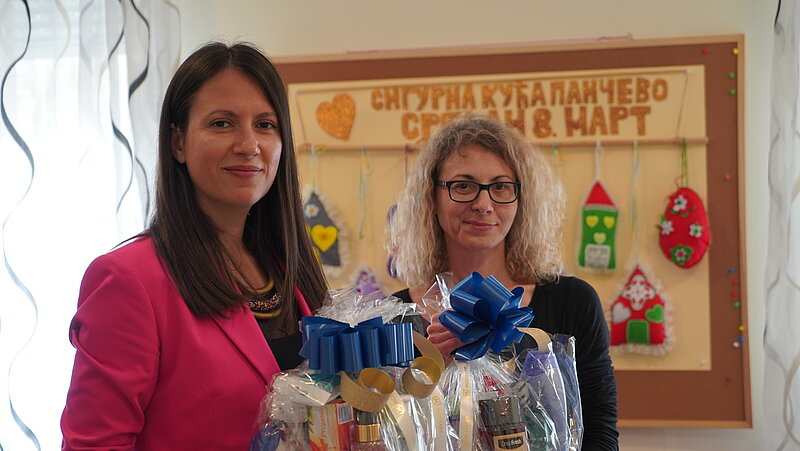 "Stop Violence against Women" is the message that the Mozzart Foundation and its founder, the Mozzart company, send throughout the year through socially responsible actions supporting the work of Safe Houses throughout Serbia with valuable donations. Mozzart did not forget the victims of violence even on International Women's Day, which is traditionally celebrated in this company with residents from Safe Houses. This year, on 8 March, company representatives went to Pančevo and Belgrade and pointed out the importance of the fight against domestic violence.
Apart from the smiles and words of support from representatives of the Mozzart company, valuable gifts also arrived at the addresses of the Safe Houses in Belgrade, Pančevo, Vranje, Sremska Mitrovica and Zrenjanin, and that was exactly what was missing to make the stay of women easier. Furniture, appliances, small household appliances, pots, cutlery, plates, and cosmetic packages are just part of the Mozzart company's donation.
"The support of companies, in addition to institutions that deal with this issue, is very important to us. Mozzart has been supporting us for many years and we work well together. Thank you very much because it always means something to our women when someone remembers them," said Vesna Stanojević, Coordinator of the Safe House in Belgrade.
The support of the Mozzart company is also very significant for the Safe House in Pančevo, whose residents received cosmetic products and small household appliances.
"In the previous years, on Women's Day, but also on all other dates, our friends from Mozzart are with us providing their support. They follow our work, listen to the needs of our users, and make them happy again and again. With today's visit, they once again brought joy into their lives, gave support and confirmation to their and our efforts. All the users were touched by the attention given to them in a light and simple way by complete strangers and along the way fully respected their needs. I personally can only thank you for the perfect cooperation and understanding that we receive from you every time, the ease with which we organize and agree, appreciation of our work and time," said Jasna Vujičić, Coordinator of the Safe House in Pančevo.
During the previous year, on the occasion of "16 Days of Activism against Violence against Women," the Mozzart company, in cooperation with the Online Art School, launched the economic empowerment of women who had suffered violence. Users of Safe Houses in Belgrade, Pančevo, Zrenjanin, Vranje, and Niš were given courses in knitting, jewellery making, decoupage, and the opportunity to learn the secrets of knitting and improve their skills via the Internet. During the visits on 8 March, the representatives of the Mozzart company made sure that the women successfully mastered the courses and enjoyed making jewellery, clothing, and other accessories.