Mozzart grants Belgrade with the court dedicated to Vladimir Lučić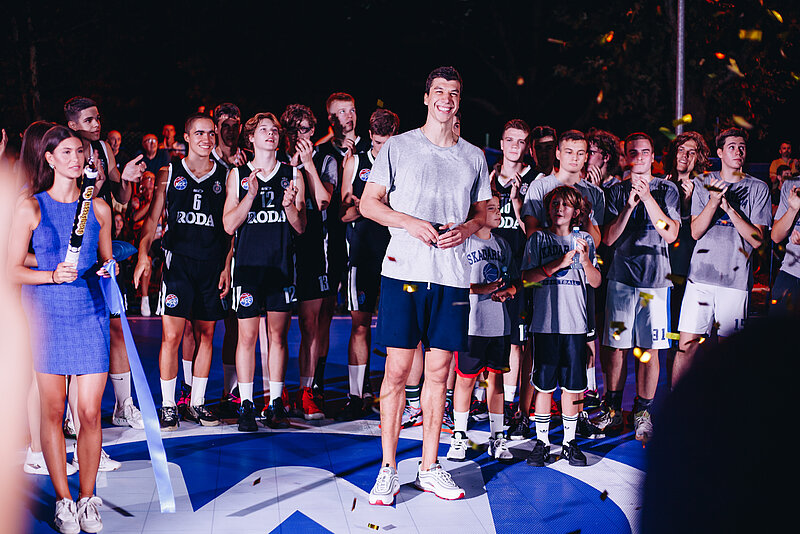 Mozzart opened the 93rd court at Voždovac within the action "A hundred courts for one game"
If there is will, there is way – one boy from Voždovac has succeeded in finding both, the will and way to make his childhood dreams come true. Vladimir Lučić today dreams his dream as the captain of the basketball national team, a boy from Jerković has successfully been leading the Bayern team as well, and his guiding star will be on the mind of many kids who will make their first basketball steps at this new Mozzart court at Voždovac, named after Luča.
Under the crowns of Voždovac lime trees at the Bulevar oslobođenja, some new basketball generations will grow at the 93rd basket court, the fourth open at Voždovac within the socially responsible action of the company Mozzart "A hundred courts for one game".
In the presence of numerous Voždovac residents, family and friends that came to express their respect to Luča, the captain cut the ribbon and solemnly opened the court that Mozzart dedicated to him.
"First of all, I would like to express my gratitude to the whole team and Mozzart for their idea to renovate this court. It is my honour that one of the courts in the municipality where I was born and where I still live will be named after me. I would like to thank to my family for the support they have been giving to me for all these years, my co-players, and all of you who have come to support this action in such a surprisingly great number. It is an incredible feeling when you know that the people in your own town support and encourage you. I hope that a lot of new basketball heroes will be growing and developing on this court", said Luča.
The opportunity to test the court for the first time was given to the juniors of BC Partizan and Skadarlija, who gave to the audience an excellent first half time of the game. The Skadarlija team was enforced in the second half time, so new basketball hopes were supported by Nedović, Dangubić and Lučić who played some very attractive actions with their young colleagues.
"This is a special court for Voždovac, as this is the place where all basketball lovers gather together, but also, because it is located near the Faculty of Organizational Sciences, the Institute for Education of Children and Youth, which means that a lot of children grew up on this court, and spent many beautiful moments of fun with their friends. The court is reasonably named after Vladimir Lučić who promotes Voždovac all around the world in the best possible way. As he says "if there is will there is way", it is exactly what Mozzart managed to do. They spent only four days to set this and complete all works", said the President of Voždovac Municipality, Ivana Tomić Ilić.
On behalf of the Mozzart, Lučić was granted a Certificate of Merit by Borjan Popović, Director of Corporate Communications. Also, during the forthcoming European Basketball Championship from 1 September to 18 September, Mozzart offers you the possibility to win the court for your part of town. For more information click the following link:
Postani LEGENDA u svom kraju, osvoji teren za basket (mozzartsport.com)