GIRLS FOLLOW IN THE FOOTSTEPS OF CHAMPION GIRLS - MOZZART'S FREE VOLLEYBALL SCHOOL BEGINS!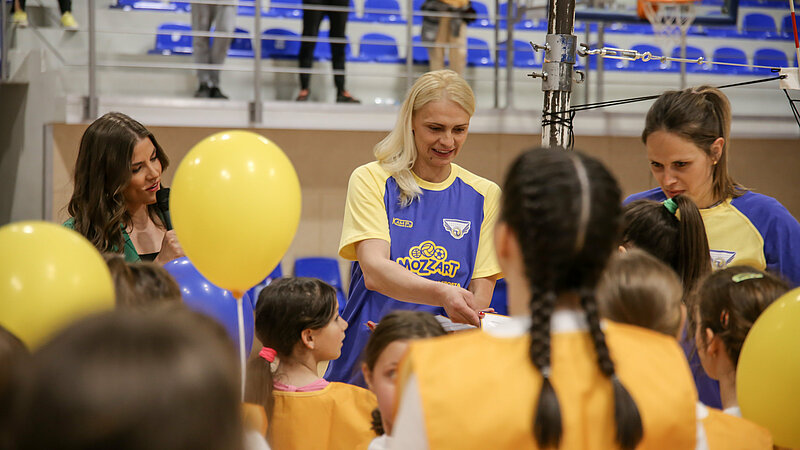 In the country of the World and European women volleyball champions many girls dream of spiking like Tijana Bošković, digging a ball like Maja Ognjenović, serving like Brankica Mihajlović... Dozens of young talents took the first step towards realizing their dreams, at the Open Class in Zemun, which marked the beginning of Mozart's Free Volleyball School!
Former captain of the women's national team, Vesna Čitaković Đurišić, was a special guest and helped choose girls aged 8 to 11 who will train twice a week for six months without paying membership fees.
Mozzart's project of free sports schools was supported by the Ministry of Youth and Sports, and previously the schools of basketball in Niš and handball in Aranđelovac, as well as football school in Belgrade, started.
Now the girls who want to train volleyball have the opportunity to show what they know in the presence of coaches Ivan Steljić, Ivana Dinić and Olga Erceg and in the presence of the legendary middle blocker who once raised the audience to their feet with his spikes, and now with the same enthusiasm he makes the atmosphere exciting wherever he appears, shares advice and motivates little volleyball players to do their best on the court.
Mozart's Free Sports Schools Project is great. Today it was very emotional for me, I saw many girls with a gleam in their eyes who are eager for knowledge and learning. I hope that this idea will come to life and become traditional. In my time, there were no membership fees or private sports schools. Physical education teachers and other teachers tried to make the children spend as much time outside as possible. As a child born in the village, that was normal for me. I think that school sports should be renewed again. Children should play sports, regardless of whether they will one day be members of the national team or not. Sport is very important, a child with a ball becomes a better person – says Vesna Čitaković Đurišić.
The free school is being realized in cooperation with the VC Budućnost 2020, and the best participants will be rewarded by going to the Play Volley camp run by the golden boys of our volleyball, Aleksandar Bata Atanasijević and Nikola Rosić.
I feel proud, because this is all organized at the top level - says coach Ivan Steljić. - We want to show parents and the public that it is also possible for children to play sports without paying membership fees. The turnout was great, although the spring holidays are underway.
Vesna's presence meant a lot to the children, she is the legend of our volleyball, and young talents should be enabled to see their idols. It is something that will attract them to volleyball at this age, and then it is all up to us coaches to keep them on the field and make new champions.