Best grades for the support - Mozzart assists, students win!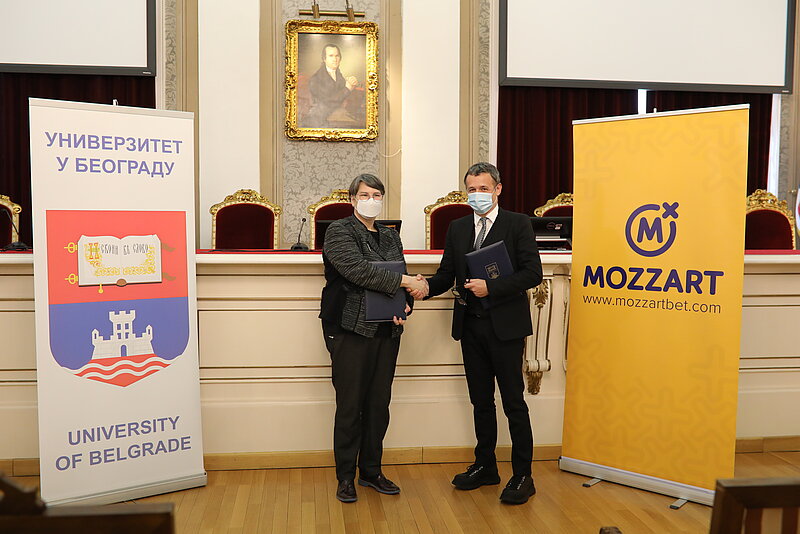 Director of the Human Resources Sector Marija Božović: Our company employs academic students, finances education, provides professional internships, provides support to student organizations… The University of Belgrade is a valuable base of future experts, and now we have become a golden partner of the Rector's Office at the project "European University Games".
Mozzart assists educational institutions, and students come out as winners! The regional leader in games of chance has been providing support to academic students for many years through a series of activities, sponsorships, scholarships for those with best grades in their booklets… Social responsibility of this company is the topic of the diploma theses, and this kind of help to the university community received the highest marks in the Rectorate itself. Cooperation with the University of Belgrade was crowned with a golden partnership on the project "European University Games", so Mozzart will be the most loyal fan of students at the European Games in Belgrade from July 14 to July 27.
"Two years ago, Mozzart received recognition from the rector Ivanka Popović for the special contribution to the development of university sports, while this year we will be the golden partner of the Rectorate as organized through the University Games. Sports develop motivation and commitment, a sense of community and responsibility is strengthened and the individual's contribution to the team is rewarded, and these are the values ​​we nurture with our employees and which directly contributed to our company becoming a regional leader," said Marija Božović, Human Resources Director at Mozzart.
Mozzart recorded one bronze partnership in the previous days, but it is also worth its weight in gold for students if viewed through the eyes of continuous support for the Case Study Show since 2017. This project of the Student Organization ESTIEM enables academic students to adapt more easily to the corporate world, and through education and solving a case study they acquire the necessary skills to enter the labor market.
"The University of Belgrade is a precious base of future top experts. As a company which considers the most valuable capital not only of its employees, but also of all quality personnel on the labor market, we continuously invest in young talents, which is our HR strategy. Aware that competitive advantage can only be provided by teams with large capacities and ambitions, we have always encouraged the development of young people, who are increasingly involving in the business - whether by providing professional internships, employment, funding education or providing support to their associations and organizations", Marija Božović concluded.
Sponsorships and collaborations with students:
ESTIEM student organization and support for the Case Study Show since 2017
Annual partnership with the Student Organization BEST (Board of European Students of Technology)
Talent scholarships and support in further education - Stefan Djordjević (graduate in physics and electrical engineer, graduated from two faculties with best grades), Veselin Manojlovic (enrolled doctoral studies at Oxford, where he studies mathematical modeling of tumor evolution and cancer risk), Matija Glišić (student of the prestigious French college "Ecole Polytechnique")
Participation in employment fairs
Three-month training program for young programmers and employment after the program
Organization of internships for students